A DECADE OF THE STETSON FAMILY!
It all started out when three members of 80s synth-pop band Schizo Scherzo met 20 years after the band split up – throw in a banjo, take out the synthesizer and roto drums, add some sweet harmonies – and now, 10 years down the track as Americana-bluegrass band The Stetson Family, we're still happily rolling. Our first ever Stetson gig was at the closing of Melbourne's iconic Rainbow Hotel, that 'dirty hotel' that we loved so much, which is the setting in our song Dark Side of Town.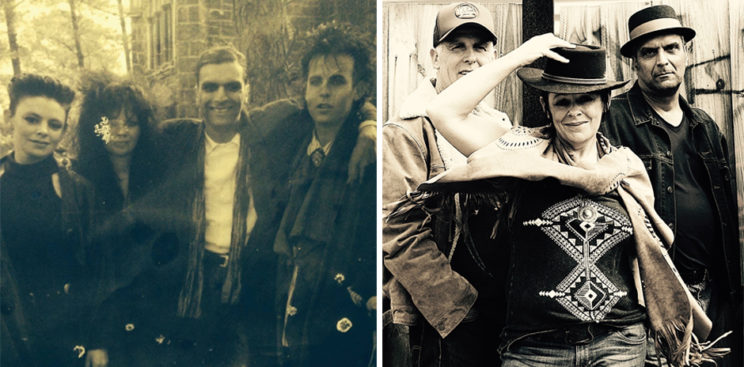 Synths, flat tops and mullets eventually gave way to banjos, felt hats and denim (Thank God!)
For me, Nad, John Bartholomeusz and Colin Swan, we're not just joined by our musical history from the 80s when it was all about chasing the dream of a recording exec coming to our shows and signing us – (we were "the next big thing" that never happened) – these days we just genuinely love creating music together. We like writing it, singing it and playing it, and if people come to our shows and enjoy it, then that's what floats our boat – pretty simple really! (sidenote: If you have a stack of old Countdown magazines, flick through and keep an eye out for us back in our 20s when we opened for Farnsy on his Whispering Jack tour, as well as supporting The Eurythmics and The Monkees. What a time!).
This year we're celebrating our 10 years together as The Stetson Family, with fellow members Luke Richardson and Greg Field by playing some very special shows and festivals. We'd love you to join us somewhere along the road. The first of our Decade of the Stetsons mini-tours is coming up later this month.
SAT 24 FEB: Minya Winery, Connewarre VIC. This is an extra special setting with the Moonlight Concert Series stage set in an amphitheatre overlooking a billabong… I kid you not, it's gorgeous! Bookings are essential for this show
TUE 27 FEB: Mountain Pickers Association, Ferntree Gully VIC. We're delighted to once again head out to the Dandenongs and play for this wonderful bunch of music lovers. It's always amazing to see so many people gathered (especially on a weeknight!) ready to kick up their heals. Tickets
MAR 2-5: Nannup Music Festival, WA. We're heading out west for the first time! Crossing the Nullabor to play the amazing Nannup Music Festival with many of our good pals (Tracy McNeil & The GoodLife, Dan Parsons, Jordie Lane), set amongst the old Jarrah trees. Come on over! Tickets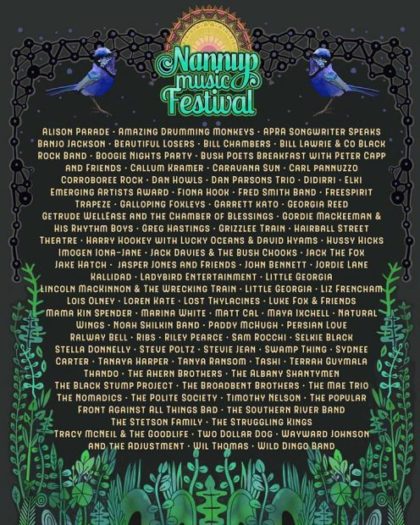 There's more special shows and festival announcements coming up!
See you 'round!
xoxo Nad, John, Colin, Richo and Greg
---
Happy release day for our new single 'Brother'! Hope you enjoy it x

---
Our new single 'Brother' will be available on October 13 via MGM Distribution on all digital platforms!
To celebrate, we're taking up residency at The Retreat Hotel every Monday night in October from 8pm and hitting some festival stages around the state:  Foggy Mountain Bluegrass Festival in Kinglake Oct 13-15, Healesville MUSIC Festival: Nov 1, Mountaingrass at Harrietville Nov 17-19.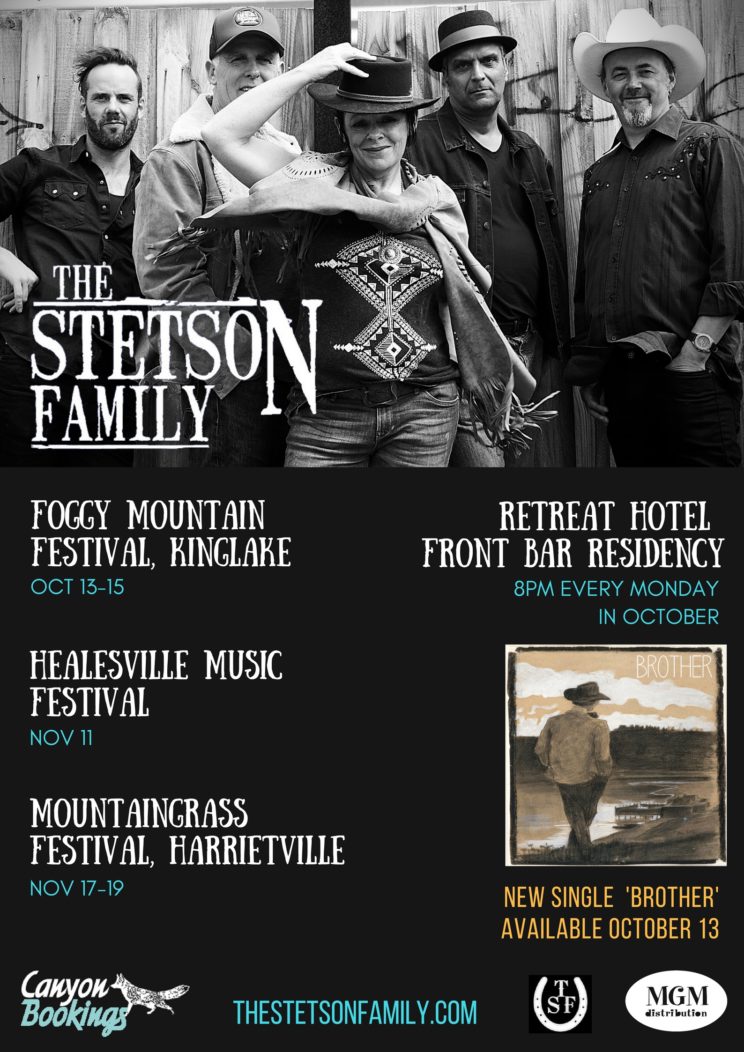 See you 'round the traps! Nad, John, Swan, Greg & Richo
---
True North has once again been included in the Top Americana Country Chart 2016 on America's Roots Music Report – second year in a row! We've come in at #41, which was a really unexpected but great surprise. Big cheers and thanks for the support from the many US radio stations who've had us on their playlists!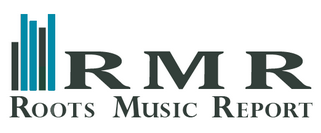 Great reviews keep coming in too from the other side of the globe: "The Stetson Family is based in Australia, but the rugged, down-to-earth charm of their music is universal.  True North is a 'must-have' album." The Music Shelf – Wisconsin USA.
Closer to home we were very proud to be nominated for Best Group 2016 at the Australian Independent Country Music Awards last September and to be on the line-up for some amazing festivals around the country.  As a self-managed, independent band it's gratifying to be acknowledged by our peers, audiences and radio, so thanks to all the people who keep coming along to our shows, buying our music and spinning our tunes.
2017 sees us celebrating our 10th anniversary – 10 years!!! – so we're gearing up for some special shows later in the year.   Stay tuned!
As 2016 came to a close we raised a glass to our dear Andy, whom we continue to miss, but we'll keep playing his songs and take his indelible spirit with us wherever we go…
And if you're up for a huge belly laugh, click below for a stirling Stetson stage dive when we played the world's skinniest stage at a little gig on a Tuesday night in the hills…
– Nad, John, Colin, Luke & Greg
---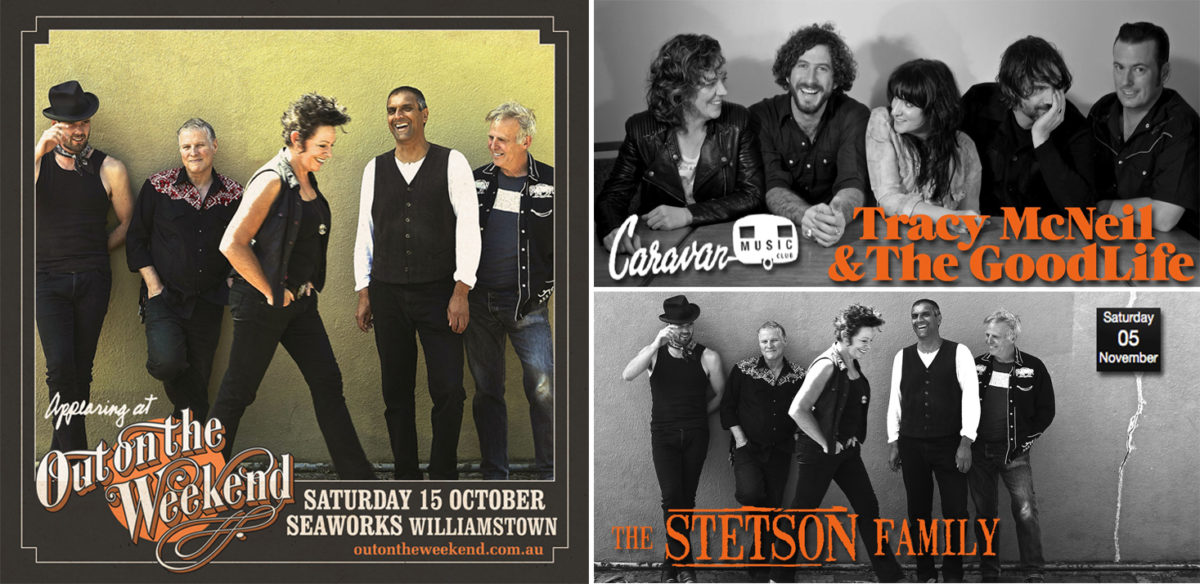 It sure was a great way to burst into Spring to find out we'd been nominated for Independent Group/Duo of the Year at the Australian Independent Country Music Awards! We didn't take home something shiny for the mantel piece but we're mighty chuffed for the nomination and extend our congrats to all the winners.
We've got a couple of shows coming up that we're really excited about. On November 5 at the Caravan Club we team up with our nearest and dearest, the fabulous Tracy McNeil & The Goodlife, to celebrate the southside launch of their already highly acclaimed album Thieves, and our latest release True North spending seven months on US charts. What's not to celebrate!  Tix onsale now….
But firstly, now that daylight savings has switched on, it's time to take a trip out west for Out on the Weekend. We're stoked to be playing this fabulous festival on October 15, amongst an amazing line-up of local and overseas artists.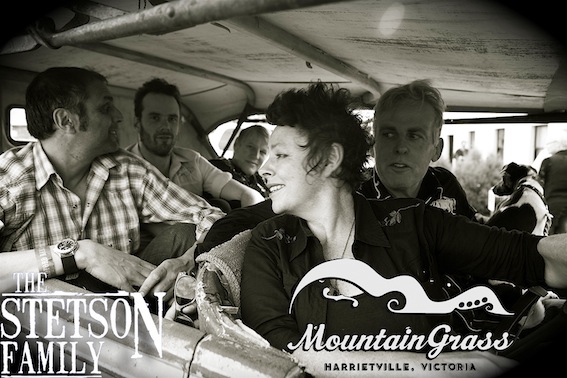 So don't forget to get out there and support live music and the musicians who make it!
We also be heading to the other side of the mountain, Nov 18-20, for this year's Mountaingrass Festival of Bluegrass and Old Time Music. It's in the gorgeous town of Harrietville and is the home of the finest pickin' around!
---
We've been holding onto our hats waiting to be able to announce some pretty exciting shows for the second half of 2016! Hot off the back of seven months on US charts with our latest album True North, we team up with our besties, Tracy McNeil & The GoodLife, at the Caravan Music Club for a night of free-wheeling Hollywood-and-Vine country-rock and fresh bluegrass with a bedraggled soul of rock and roots…
Doors open at 8pm (Show 8.40pm )
Price: Reserved Seats$29+bf, General Admission$20+bf
$23 at door if available
Hey Brisbanites, come hang with us, have a dance, drink apple whiskey and maybe throw an undergarment over a moose's head as we hit Australia's favourite old-time music hall, Lefty's. We'll be letting the reigns loose and playing three big sets with every song we know: 15 Caxton St, Brisbane City QLD FREE! 
And we're so excited to be invited back to one of our all-time favourite festivals, the Bangalow BBQ & Bluegrass, August 19-20. As an extra special Stetson Family member, we'll have Gleny Rae, that heel-kickin' fiddler from The Junes & Gleny Rae Virus & her Playboys joining us, and word on the vine has us teaming up to form a super-fun-group with The Original Cartridge Family!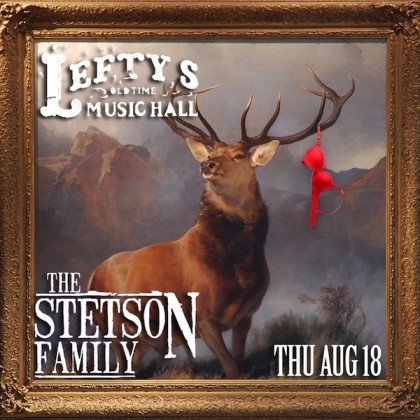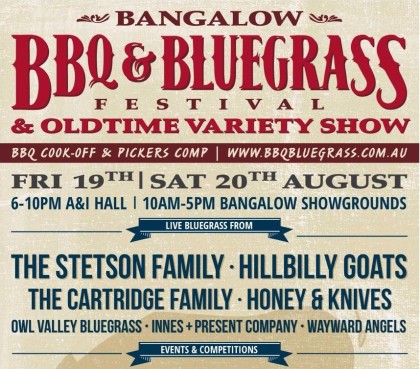 Last but certainly not least, we couldn't be more thrilled to be included in the line-up for Out on the Weekend 2016! This festival is a major highlight on Melbourne's bursting Americana and Alt-Country scene. Click here for the international and Australian line-up, including Marlon Williams, Lindi Ortega, Jo Pug, Cash Savage..lots more.  Put a big ol' star on your calendar for this one 'cause you won't want to miss it!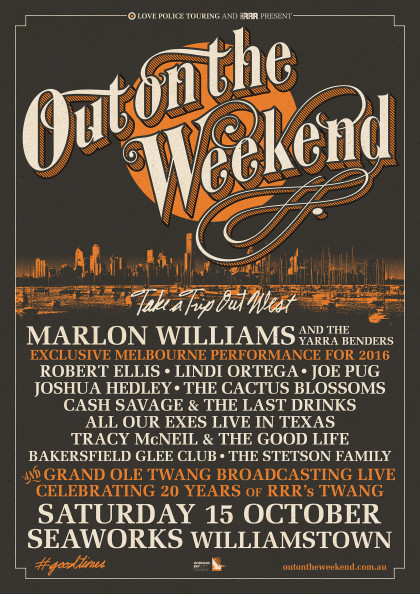 ---
The last 12 months has been one helluva roller-coaster ride for The Stetson Family, full of the highest of highs, lots of music and laughter, and of course profound sadness as we come to terms with the loss of our best mate and mando player, Andy Carswell, in March. When Andy was diagnosed with cancer three years ago we set about spending as many precious moments together as we could, playing music, writing, recording and generally hanging out doing what we love. Out of this came our third album, True North. We're so glad we got to finish and release it while Andy was still well – and what a cracker of a time we had touring the album last October, full of moments on and off stage we'll treasure forever.
It's been pretty amazing and celebratory to see True North not only hit charts in the USA but remain on the Roots Music Report chart for seven months, reaching #7 on the Top 50 Americana-Country chart, and #1 – yep #1 – on the RMR Australian Albums chart, alongside Oz music luminaries, Kasey Chambers, The Waifs, Courtney Barnett and our good mate, Fiona Boyes. Go little album go!
If you're here in Melbourne, Australia, we hope to see you on Sunday the 29th of May as we raise a glass to our little buddy, Andy, at his favourite local, The Union, with loads of special guests. More details soon – in the meantime, keep on keepin' on!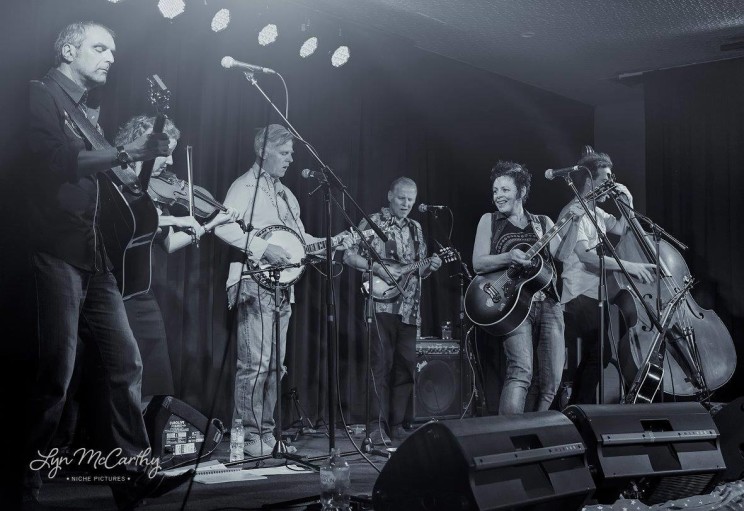 ---
Hi everyone. Normally when we send out newsletters it's to say what a whizz-bang time we've been having with The Stetson Family, so it's with a heavy heart that this newsletter is to let people know that our mandolin player, Andy Carswell, passed away recently. Those close to the band have known that three and a half years ago Andy was diagnosed with liver cancer. Being the humble and philosophical person he was, Andy played this very close to his chest, and, as the band, we followed his lead and kept it on the down-low. He never wanted a fuss made and he wanted to keep playing with us whenever and wherever he could. Treatment at times made this not possible, then when he was back on his feet it was as if nothing was wrong and back to the business of having fun and playing, writing songs and touring round the countryside having a ball.
The 'family' part of The Stetson Family has never felt more true. John and Andy knew each other since childhood down in the Latrobe Valley, being best mates since their crazy teenage days – and the rest of us, apart from the young'un, Luke, have known eachother and played music together on and off for over 30 years. We're all still reeling from the fact that one of us has now gone – our friend, band member, co-writer and fellow traveller….you were the best Andy, and we'll love and miss you till the cows come home.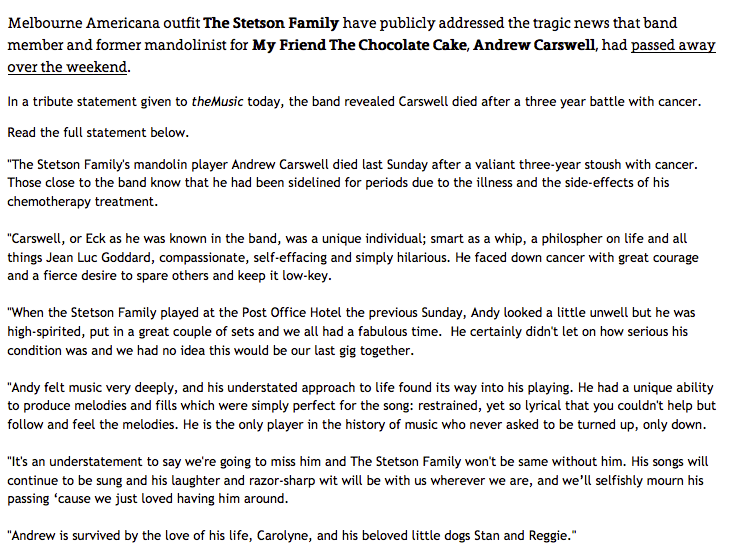 We'd like to say a huge thank you to the amazing players who have stepped in for Andy over the last few years, often at short notice. We're gathering these fabulous, talented, fun-lovin' folk – Greg Field, Gleny Rae, Marni Sheehan, Nick O'Mara, Ian Tritt and Pete Fidler – and having a tribute to Andy on Sunday 29 May at the Union Hotel, Brunswick, 5-7 pm. We'd love you to join us and raise a glass to our little buddy, Andrew Carswell.
x x x John, Nad, Swanny and Luke
---
News flash – It's been quite a week with news that True North made the cut onto the USA's Roots Music Report Best of 2015 Americana-Country Albums. It's one of the few "self releases" on there…we're pretty proud of that.
It also turned up on a Top 10 Best of 2015 List in Italy's premier music magazine Buscadero.  Mama Mia!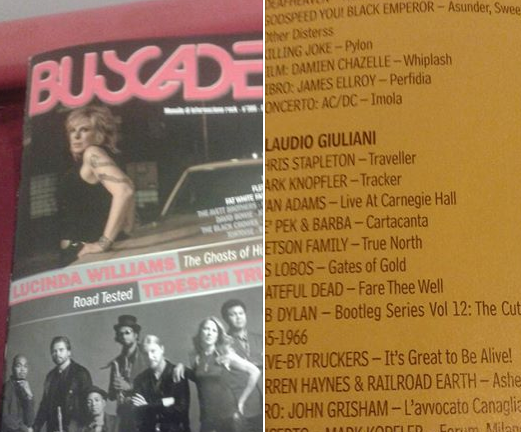 ---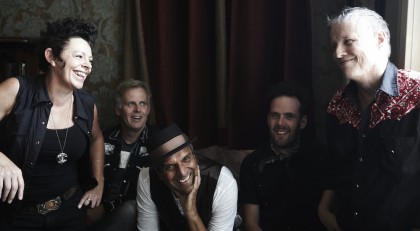 2015, what a year you've been!  After recording most of our third album last year, we began this year putting final tracking down and then headed into the mixing cave and emerged a few months later with the finished project, True North. We released it in Australia and the USA in August and we're mighty proud to say that our self-produced, independently-released album sees out 2015 at #26 on the Top 50 Americana-Folk Albums on the Roots Music Report Chart, and #4 on the Roots 66 Alternate Root Charts in America! Thank you so much to all the US broadcasters who have kept it on high rotation.  It's kinda weird to know so many people are hearing our music over there (weird in a really good way) and True North is out in the world with a life of its own. Good on you, little album!
Read some of the nice things people from all over the world have written about True North HERE
Thanks to everyone who came to our shows, had a dance, had a chat, bought an album, wore a T-shirt or kept your beer cold with a groovy Stetson Family stubby holder.  You're the best!! See you round in 2016.
 Nad, John, Swan, Eck and Luke
---
Boy, there's been lots happening since last we spoke!  The new album, True North, is well out there making its own way in the world, and we're tickled pink to say it's had lots of airplay here and overseas – enough to put it on some airplay charts in the US.  It entered the Roots Music Report, Top 50 Americana Country Albums, making its way to #37, and the song 'Let it Ride' hit #20 on the Top 50 Americana Singles. Woot!
We've also been receiving really great reviews from all over the place – including Czechoslovakia, Italy, Benelux and the Netherlands!
After the official launch here in Melbourne we played some regional Victorian gigs before Nad and Luke took off to check out the Americana Music Festival in Nashville, Tennessee. We had a blast – and that's putting it mildly. There's so much great music out there in the world and to be in the midst of a city like Nashville surrounded by it is truly inspiring, and fun! You never know who you're going to bump into (and without getting too big headed, let's just say it might've been Lucinda Williams, Gillian Welch & David Rawlings, and Del McCoury…..look!)
  Now we're back and gearing up to head north on our Album Tour this Friday for some pretty special gigs. We hit the Gold Coast on Saturday for some Miami Marketta fun, then on Sunday we're doing a very special "double-launch" show in Mullumbimby (Ex-services, Club Mullum) with the one and only Suzannah Espie, who's touring her extraordinary new album, Mother's Not Feeling Herself Today. We're delighted to have Suzannah guesting on our album on the song 'Every Second Beat of My Heart', and Nad is part of the beautiful choir of women on Suzannah's album on the heart-wrenching 'I'm Sorry'. No doubt there'll be some cross-pollination at the double launch in Mullum – but wait, there's more!  We'll also be joined by the fabulously talented and bloody funny Gleny Rae (The Junes, Gleny Rae Virus) who's coming up to play fiddle with us. What more could we ask for? We'll then have a few days of annual Stetson whale watching in Ballina before heading down the coast to Sawtell to check out what the fuss is about at 63 First Ave, then it's on to Dorrigo for our first ever Dorrigo Bluegrass Festival. We've been hanging out to play this festival, so look out, here we come!
The fun then continues back here in Victoria on Friday 30th October for a lunchtime in-store at Melbourne's independent music institution Basement Discs, then we head to Maldon Music Festival, then we'll wrap up the tour at Jamgrass 2015 at its new venue at Bundoora Parklands!
Phew – busy!  Hope to see you at gig somewhere!  Nad, John, Swan, Eck and Luke
---
We're hittin' the road with our new album TRUE NORTH…hope to see you somewhere in our travels!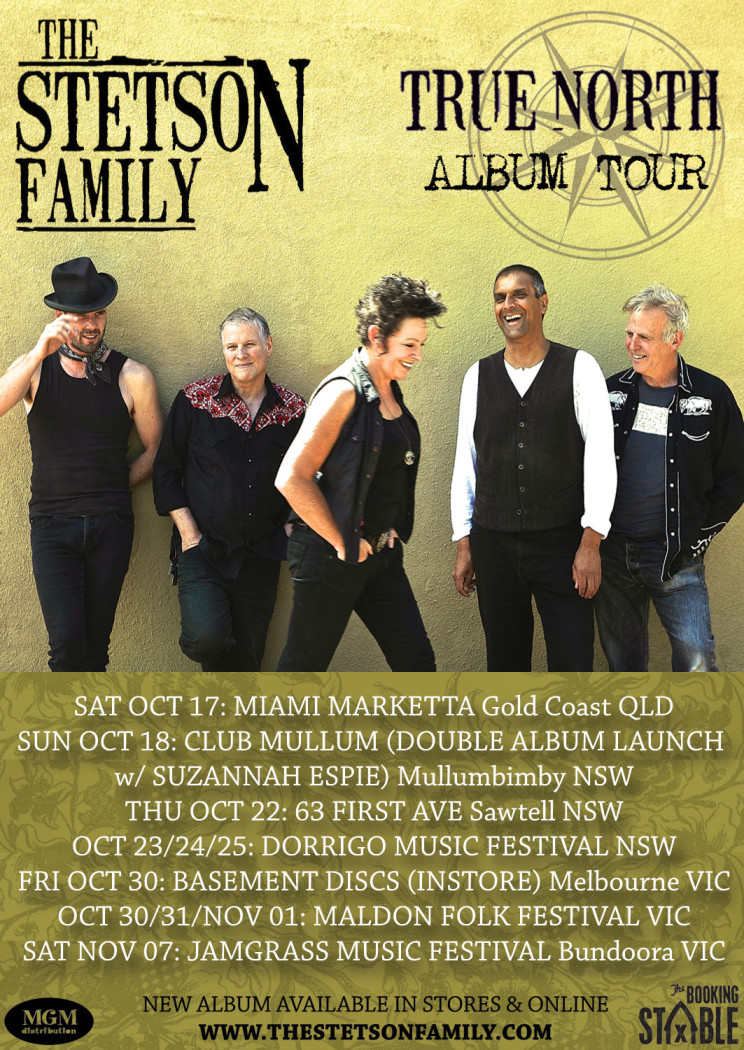 ---
So the official launch of our third album TRUE NORTH exceeded all our expectations as we played to a joyous full house at The Spotted Mallard on Sunday July 26, along with some of Melbourne's finest musicians and generally awesome people, Suzannah Espie, Dan Parsons, Bree Hartley, Nick O'Mara & Greg Field as our "extended family" guests. We were overjoyed at the turn-out and over the moon at the response we got from such a wonderful audience. In short, we had a ball and want to give huge thanks to the people who came and helped us celebrate the last couple of years of making the album.
(Photo by David Harris, Festivals Of Australia)
In early July we pre-released True North into the United States and popped a bottle of bubbles when it finished #2 Bluegrass/Folk Album for the month of July and #6 Top 50 Albums across all genres on APD Global Radio Indicator Chart (broadcast industry chart). True North is distributed through MGM Distribution and is now available in stores (our faves here in Melbourne town being Basement Discs and Readings – keepin' it real and independent) and online from August 7.  You know you want a copy! (Buy Physical or Buy Digital)
Reviews have begun to flow – and they're good!!!  They've come from all over the world including Czechoslovakia, and we even found ourselves on a cover of something in Uruguay with Kenny Rogers. Just goes to show you gotta know when to hold 'em, know when to fold 'em, know when to walk away and know when to run! Here's a few snippets of reviews True North has received so far:
"It is with their originals that this band shines…. all songs have the potential to become classics! " Niall Toner (Ireland), Prescription Bluegrass, Kingman, Arizona
"With their tight harmonies and vibrant sound, it's hard to believe that The Stetson Family has only been together since 2008.  They blend like one of the legendary bluegrass or country families, and on TRUE NORTH they sound better than ever with some of their best material yet."
Rick Moore, American Songwriter and Music News Los Angeles
"In 29 years of presenting the program I can't remember the last time I was so excited about an Australian bluegrass recording….they've gone to a whole new level with this one." Bill Lawson, Bluegrass Unlimited, Radio Adelaide, SA
(Photo by David Harris, Festivals Of Australia)
Thanks to Suttons House of Music, The Old Hepburn Hotel and Major Toms for hosting our regional launches.  Big shout out too to Bangalow Bluegrass & BBQ Festival in northern NSW. I had such a kickin' time guesting with the Mid North and just being at this pearler of a festival. Put it in your calendar for 2016!
(Photo by Lyn McCarthy, Niche Pictures)
We'll have a little hiatus through September while Nad heads to the US to check out the Americana Music Festival (and has a cool road trip) and then we'll be back for some gigs up the East Coast and some pretty fun festival announcements.
Hope to see you round the traps real soon!
Nad, John, Colin, Andy & Luke
---
With the launch of our third album, True North, just a week away, we're happy to say that we've been completely blown away by the response we've had in the lead-up to its release and we're really excited that our new album will be fully let loose soon to go off into the world all on its own! Be free, little album – have fun out there!
Here's some of the media feedback True North has received over the last couple of weeks:
"With their tight harmonies and vibrant sound, it's hard to believe that The Stetson Family has only been together since 2008.  They blend like one of the legendary Bluegrass or Country families, and on TRUE NORTH, they sound better than ever with some of their best material yet." Rick Moore, American Songwriter and Music News Los Angeles
Enjoying our spot at #1 on a US radio broadcast download chart and some airplay in Uruguay: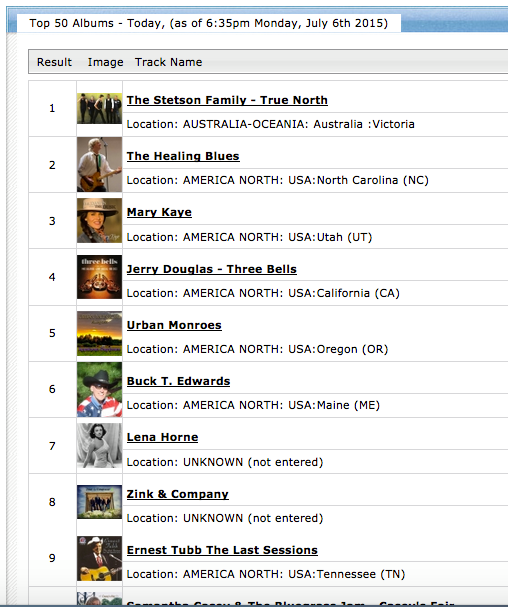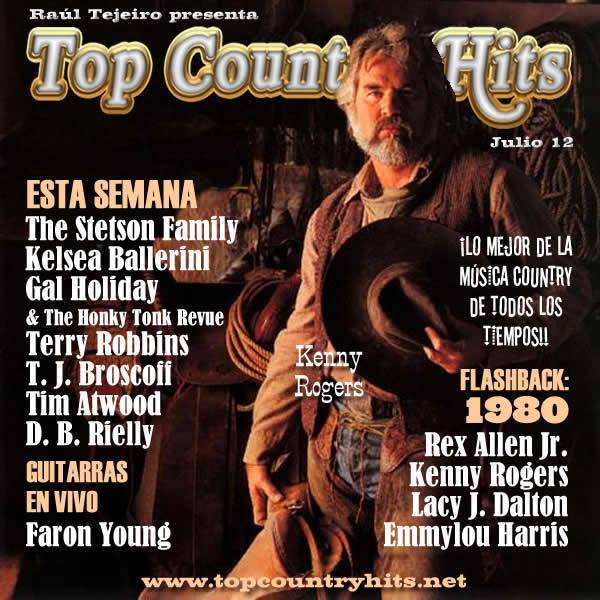 Feature Album / Album Of the Week on:
Mystery Train, BayFm 99.9 (Byron Bay NSW)
That's Country, 98.9 North West FM (Victoria)
101.5FM Radio Adelaide (SA)
And what's a launch without having your best mates and "extended Stetson Family members" to help celebrate…..all amazing singers, songwriters and musicians in their own right.
Troubadour, Dan Parsons will open the afternoon with his sublime songs evoking the halcyon days of Laurel Canyon and all-night jams at Big Pink (keep an eye out for his gorgeous new album!).
Joining us on stage to add some divine harmonies will be the one and only Suzannah Espie (also with a stunning new album on the way), Greg Field on fiddle (Bakersfield Glee Club, The Cartridge Family), Nick O'Mara on steel guitar/dobro (yet another one to be releasing a new album with Amarillo – what a year for releases!), and Bree Hartley on percussion (Tracy McNeil & The GoodLife). What a line-up!
See you next Sunday! Nad, John, Colin, Andy, Luke x
---
ALBUM LAUNCH ON SALE NOW!
It's been two years coming, making it's way through hell and high water to get here, and now we're thrilled to be launching album number three, True North.
True North is grassy with more than a hint of down-home Americana, and follows in the footsteps of Hey Sister Mary, Where'd You Get That Gun, and The Devil In His Sunday Best, noted by Rhythms Magazine as "a landmark Australian roots album".
True North will be let loose on Sunday July 26 at The Spotted Mallard, 4-7pm (presale tickets on sale now through trybooking.com).
Joining us on the day to help celebrate will be 'extended family' members in the form of Suzannah Espie on a BV or two, Nick O'Mara bringing home some steel geetar, and Bree Hartley drumming up a storm, plus more!
Opening the arvo, is troubadour, Dan Parsons, with his sublime songs evoking the halcyon days of Laurel Canyon and all-night jams at Big Pink.
So look to the stars and head True North – and we'll see you at the Spotted Mallard!!!
Nad, John, Swan, Andy and Luke
---
Greetings fellow Earthlings!
Yes, we know we haven't sent out a newsletter for months, but we've been busy as busy bees and, let's face it, who needs too many newsletters!  We thought though we'd just let you know that the new album is set to launch on Sunday July 26, at The Spotted Mallard here in our beloved Brunswick – epicentre of Melbourne's thriving live-music scene (insert sound of popping champagne cork here!). We'll let you know about ticket details soon.
So we now go into some non-gigging time while Swanny heads off on his annual family OS adventure, but with the way time is flying by, we'll be back playing live in no time.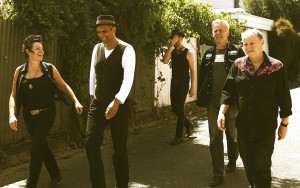 We've had some smashing gigs and festivals so far this year, culminating in a very celebratory gig last Saturday night at The Union Hotel. It was a corker way to end this run of gigs and festivals and we can't wait to get back in the saddle in July with the new album under our belts.
So until next we meet, take care out there in world, be kind to each other  and keep on keepin' on!
x x x Nad, John, Eck, Luke and Swanny
---
Thanks to all who came to our first gig for 2015 at the Union last month and making it a standing-room only affair. It was a great start to the year!
Last weekend we headed out of Melbourne to the Minya Winery near Torquay. It was definitely one of the most beautiful settings we've ever played, an amphitheatre on a billabong…and after a brief spell of summer rain at sunset, the sky put on a quite show for us – check out the photo below. Promise there's no fancy filters or anything, just nature at her best…..stunning! And what a great audience, including the dancer who joined us on stage after sampling the winery produce. Lots of fun and great hospitality from our hosts.
Nice to also see that our single Travellin' Man has been getting some spins over in the States too…
We've got some great festivals coming up (click on the show tab to see where), and in the meantime we're putting some final touches on the brand spankin' new album, which we're pretty excited about. Obviously more about that over the next few months in the lead-up to its release. Till then, see you at the Yarra Hotel's birthday party, along with a bunch of other terrific Melbourne bands, or at a festival near you!
Nad, Johnny, Swanny, Eck and Richo
---
It's time to kick back a bit as the year winds down and we get to hang out on the back porch and hit the beach for the summer.  Our last gig for the year is on Saturday the 20th of December at The Union Hotel in Brunswick – no better place to drink something bubbly and play some tunes.
It's been a creative and inspiring year for us 'cause we got ourselves back into the studio to record the new album, which will be coming out in the first half of 2015.  With our Stetson studio being sold last year we had to look around for somebody to work with and could not have made a better choice than the ever-so lovely Colin Wynne at Thirty Mill Studio. What a gem is our Col! So the album's all tracked and is now in the mixing stage – my favourite stage! We released the two-sided single, Travellin' Man / Haunted Hills in November and have been getting lots of airplay so we can't wait to get the rest of the album out into the world.
We've also played some fabulous festivals this year, including our very first National Folk Festival, the Lost Highway Karuah Bluegrass Festival and the Bangalow BBQ & Bluegrass Festival. Karuah and Bangalow were first-time festivals and I have to say they were both excellently run and fantastic fun. We LOVE festivals! Get on their websites and check them out and start planning now for 2015.
We also want to give a big shout out to Mick Thomas and Clanger and all the gang at the Yarra Hotel in Abbotsford. They had us there for the November Sunday arvo residency and we had a ball. How lucky are we to live in Melbourne with such a vibrant live-music scene!
Also where would we be without the world's best community radio stations, RRR and PBS, not to mention our local ABC radio – give them all the support you can….they need it now more than ever!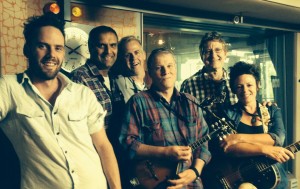 Last but so-very-not least, thanks to all the folk who come along to our gigs, have a laugh with us, buy our music and generally be great audiences. Without you….well, it just wouldn't be as fun!
See you at The Union on Saturday – or check the gig guide for when we're back. (You won't have to wait that long – back in January). Have a great Christmas, stay safe, and keep on keepin' on!
x x x  Nad, John, Swan, Eck and Luke
---
Since their last release, The Devil In His Sunday Best (described by Rhythms Magazine as "a landmark Australian roots album"), The Stetson Family haven't been resting on their laurels – far from it! In 2013 they released a compilation, O Winding River, in the USA which achieved chart success (even spending a day at #1 as the most downloaded album across nearly 900 US radio stations) and gained international recognition in the UK and Europe.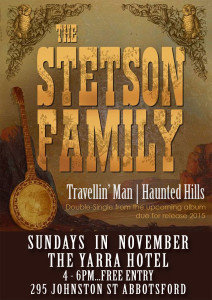 Now they are excited to release a 'double-single',  Travellin' Man and Haunted Hills from their upcoming album (due early 2015). To celebrate, The Stetson Family will be playing a month of Sunday arvos from 4-6pm at The Yarra Hotel – every punter and Melbourne muso's favourite live music venue!
Travellin' Man – the true story of a man whose lived his lonely life along the banks of the Murray with only the sky as his blanket and the moon as his light…
Haunted Hills – set in the spooky Gippsland hills where there's strange disappearances and no-one knows why the cattle stampede on the east side of the hill…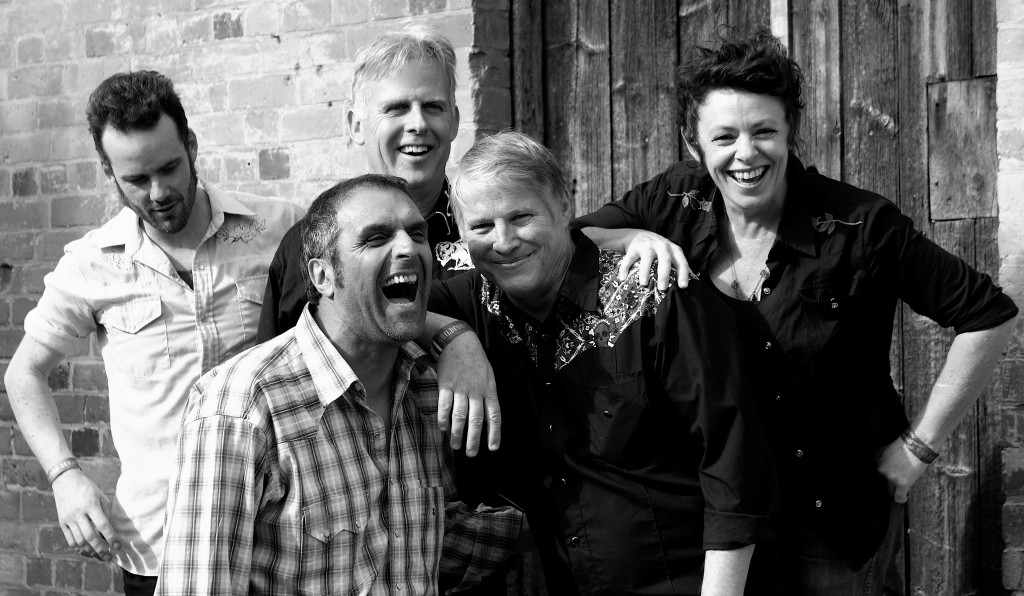 "Every now and then, if you're patient, you discover a real treasure trove of wonderful music. That's exactly what happened to me when I first played The Stetson Family 'O Winding River' album. Superb harmonies, outstanding musicians and top quality production makes this album a must for all lovers of Bluegrass and country music." Joe Fish – BBC Radio UK
"The Stetson Family's sound is what happens when veteran musicians and vocalists are confident of their strengths and are dedicated to the music as a whole instead of individual contribution." Prescription Bluegrass, Arizona
---
What a great time we had at our first National Folk Festival! We jumped on a plane early Good Friday morning and touched down to bright blue skies and a festival already buzzing with people. There began four days of playing gigs to very appreciative audiences, and catching shows of other performers, and generally hanging out enjoying the very friendly festival vibe. Amongst the many highlights was a spell-binding concert from Archie Roach, beautiful shows from Tift Merritt and Lindi Ortega, and lots of laughs as well as amazing music from Jordie Lane & Clare Reynolds. A huge shout out goes to all the soundies at the festival. As we all know, the quality of the sound can make or break a show for both performers and audience, and the guys and gals at the National were all top notch – hats off to you all. Huge thanks to all the people that bought our CDs and came and said 'hi'. Given that many people simply download musicians' music freely these days or have no qualms in telling you how they've burnt your CD for all their friends, we really appreciate you supporting us.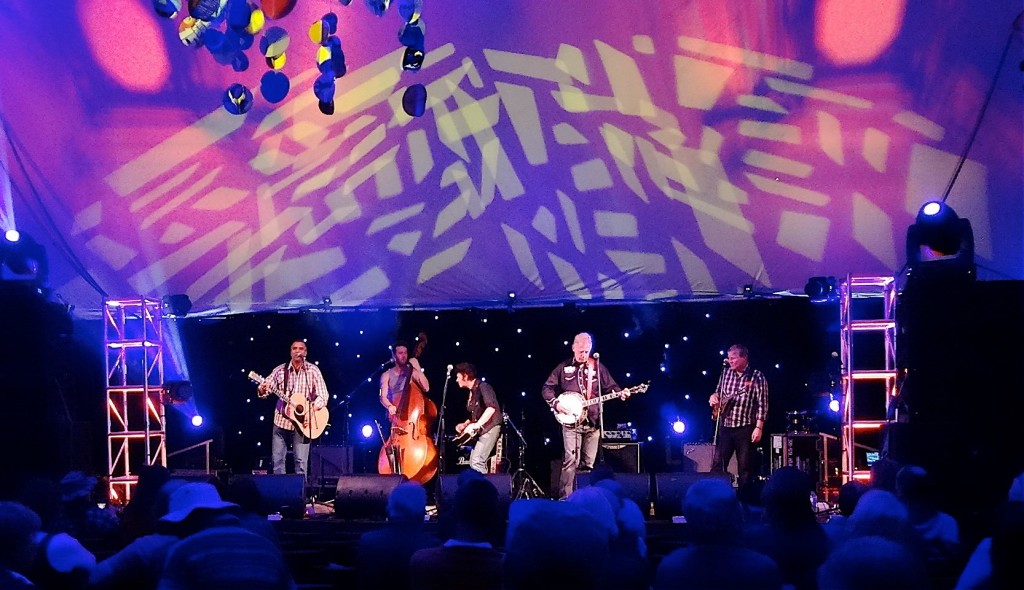 Next weekend it's off to Karuah Bluegrass Music Festival (just north of Newcastle NSW) for some more fun times on the banks of the river, then back to go and put some more songs down in the studio. Lots of Melbourne gigs happening at well, so hope to see you somewhere soon
Nad, John, Swan, Eck and Luke
---
March – how did that happen!! Last time I looked we were cracking a bottle of champagne, counting down from 10 backwards and welcoming in 2014, now summer has come to an end and before long we'll be eating Easter eggs, hot cross buns and putting the heater on!
It's Wednesday night, which in Stetson parlance is kebab-and-rehearsal night, so Nad's house is full of new songs being worked up which we'll be cracking out at up-coming gigs around Melbourne.
And we're also revved up and excited to be back in the studio recording the next album, this time around with the mighty Colin Wynne, the man with the cheekiest grin in music, at his wonderful Thirty Mill Studios.  It's been a couple of years since the last album, but Stetson Family life has been like the third drawer down in my kitchen, in other words, full of a bit of everything, so we're really excited to be back in a space where we can all get together and record again.
At Easter next month we head north to Canberra where The Stetson Family hit the National Folk Festival for the first time. It's a corker line-up and we're chuffed to be part of it – then it's on to Lost Highway Karuah Bluegrass Music Festival in Port Stephens to play music and hang out with some of the finest and funniest musos around!
All in all a busy, fun, creative and exciting time!  See you somewhere 'round soon – Nad, John, Luke, Andy and Colin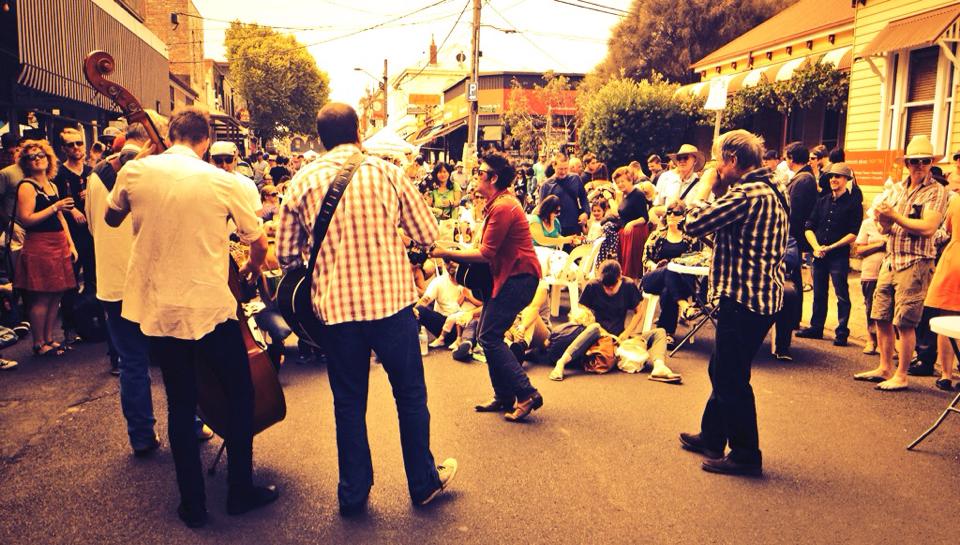 ---
Well, there it is, another year done and dusted! I love this time of year, crazy as it is in that lead-up to Christmas and New Year. When it all calms down and all the food, drink and festivities subside, it's a great time to kick back and ponder the year that's been and make plans for the year ahead.
2013 was certainly a big and surprising year for the Stetsons – most excitingly it offered us the opportunity to focus on getting our music outside of Australia. It was quite a project sending our music across the oceans, but as with most things that take time and effort, the feedback has been fabulous and we've actually found ourselves hitting some charts in the U.S. and picked up some great reviews. We want to tip our hats and say thanks to all the radio broadcasters who have embraced our music – where would we be with you! We also want to give a big shout out of thanks to the wonderful Bree Hartley for her unwavering support and assistance, and to all the folk that come to our gigs, buy our albums, and to the venues and festivals that keep live music thriving. Good karma to all of you!
2014 will see us recording a brand spanking new album (which we're very excited about) and we've got some great gigs coming up and some festival announcements soon.
All in all we're so happy that the Stetson wheels keep rollin' along and we feel pretty blessed to all be around and making music together. We hope to see you round the traps or round the world soon and wish you all a happy and healthy 2014. Keep on keepin' on!
We're also hugely excited that O Winding River has been included on the following U.S. charts during 2013:
#43 Roots Music Report – Roots/Country Top 50 Albums, Dec
#3 Roots Music Report – Australia Roots Chart, Nov
#13 The Alternate Root, Sept
#5 AirPlay Direct – Top 50 Bluegrass/Folk, Sept
#3 Foggy Hollow, Aug
#15 WAGS Radio, South Carolina, Sept
x Nad, John, Andy, Colin & Luke
---
What an interesting and great year it's been so far. Exactly a year ago Johnny and I found ourselves on a plane heading to Nashville for a whirlwind week to present O Winding River at the International Bluegrass Music Association songwriter showcase. We had an amazing time witnessing the 'tradition' of bluegrass in full flight, watching players who had grown up with the music coursing through their veins. We met great people and saw some of the most amazing pickers in the world! At the same time we got to observe the raging debate of "what is bluegrass today"? This was interesting to us as we've never considered ourselves purely a bluegrass band. We just do what we do and respectfully tip our hats to the genre and hope people like our music.
When we returned, for reasons that life threw our way, we couldn't play gigs for a while, so we decided to put a compilation album together made up of songs from Hey Sister Mary and The Devil in His Sunday Best to send over to people we'd met in Nashville to introduce them to some more Stetson Family music. The idea then became a bit bigger and grew into trying our hand at independently releasing an album in the U.S. We set about the huge task of navigating our way through the vast U.S. frontier and sending our new project O Winding River on it's merry way. To cut a long story short, the album took flight and to our great surprise turned up at #5 on the Top 50 Bluegrass/Folk Albums on the Global Radio Indicator Charts for August, and is still loitering on there at #11 as we write this. We then discovered it had made the Alternate Roots Chart, making it's way to #14. Then to our further amazement, we realised it had crossed the Atlantic to the UK and Europe and we were contacted by many stations there including two BBC stations telling us we were on their playlists. Go you good thing!
We'd like to send our heartfelt thanks to all the stations that are playing us, and also to the lovely Martha!
Read O Winding River reviewed on Prescription Bluegrass and check out the latest Direct Buzz magazine here:
Listen to Nad chat to Steve Martin on Unreal Bluegrass out of Kentucky: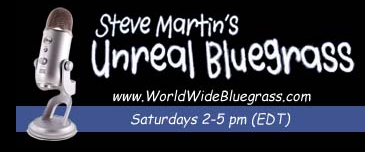 ---
Howdy! We're back. Holidays are over, therefore it's time to get down to the serious business of playing fun music. We've got some shows coming up at some of Melbourne's favourite venues, check out the gig page for more info.
If you're wondering what to do with dear old Dad this Father's Day (Sunday September 1), we're doing a lunch show at the gorgeous Hickenbotham Winery in Dromana with a view across the vines to the bay. Bookings are essential for this special event.
We're thrilled to be a part of JamGrass 2013 once again and what a top line-up it is! It just gets bigger and better each year, so be sure to check it out and get your ticket – this is a three-day event not to be missed at the beautiful Thornbury Theatre. Also coming up is a fun weekend up at the Guildford Banjo Jamboree. We're looking forward to getting up there and having a good ol' pick. We're on around 2pm on the Saturday arvo, so make sure you get there early.
In late-breaking news, yesterday we stepped back into the studio to lay down the first notes of a new album. Exciting!
It's great to be back – see you all soon.
– Nad, John, Andy, Colin & Luke
---
It's time to board that big ol' jet plane once again and head off for our annual winter break. This time we're scattered around the planet in far-flung places like New York, Croatia and Thailand. It's a great time to get out of the Melbourne chill and reflect on all the things that have been happening for the band, and to gear up for the second half of the year. There's a new single release coming up here in Australia, as well as our first album making it's way to the USA after being in Nashville in September last year for the International Bluegrass Music Association songwriter showcase. Woo hoo!
So bon voyage from all us until mid-August, when we'll be back playing some gigs around town, releasing the new single and announcing the summer festivals!
In the meantime, keep on keepin' on!
– Nad, John, Swanny, Eck and Luke
---
Here we are once again, as the days get shorter and the afternoon shadows get longer. Autumn is such a magic time in Melbourne.
We want to give a big shout out of thanks and gratitude to all the people who have been supportive of us over these last few months.  As many of you will know our John was diagnosed with Lymphoma last year and has been a pretty crook bloke, hence us not playing very much.  We're incredibly happy and relieved to report that the treatment he's been undergoing has gone really well and he's expecting to be off the bench and match fit again soon. Phew!  We'll be laying pretty low over April but will be back fighting fit with a bunch of local gigs and new songs in May, before heading up to Queensland for the inaugural Broadbeach Country Music Festival.  Check all gig details here.
So once again, thanks for all the kind words and good vibes.  We couldn't do it it without him, and we couldn't do it without you!
Cheers,
Nad, John, Swanny, Andy and Richo
---
We're back! And ready to get down to the business of having some serious fun in 2013. It's always great to get back from holidays, regroup and have a good ol' catch up about what pressies we all got for Christmas, then check the calendar and see what's coming up. It all kicks off this Saturday at our old fave, The Drunken Poet. Lots more from then on including a live-to-air for Triple R from the Sydney Road Street Party, The Clarkefield Music Festival (a big bash to raise funds for the Cambodian Kids' Foundation with us, Mick Thomas, Sal Kimber & The Rollin' Wheel, Tim Rogers, The Toot Toot Toots and lots more), Healesville Music Festival and a jaunt up to Queensland for the inaugural Broadbeach Country Music Festival.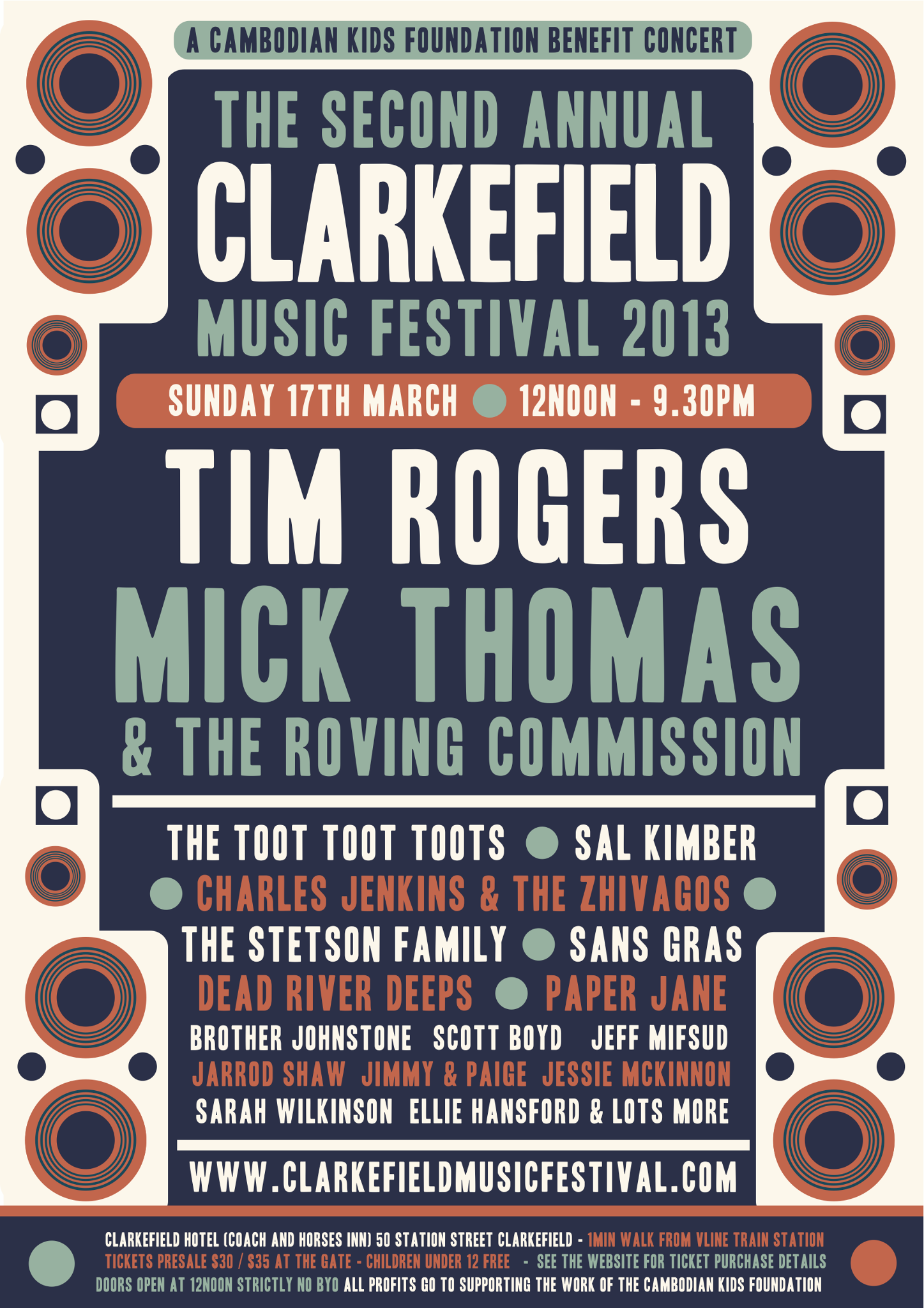 A big thanks goes out to Felicity Urquhart of ABC's Saturday Night Country for including our song, O' Winding River, on the Favourites of 2012 compilation. It's available now at your local ABC Shop or you can buy it here.
While Nad is usually found performing within the comforting surrounds of the band, this week she was a guest at the Unpaved Songwriter Sessions, solo (yep, solo, for the second time ever!) playing in the company of two of Melbourne's finest, Sal Kimber and the dapper Dan Lethbridge. The Unpaved Songwriter Session at The Old Bar is based on Nashville's Bluebird Cafe songwriter sessions. It's a true up-close-and-personal listening experience, and yet another reason why Melbourne's live-music scene is second to none in Australia.
We hope you've all had a great start to 2013 and wish everyone the best of health and look forward to seeing you at a gig soon.
---
Don't know about you, but as the year torpedos to a close, we're sure looking forward to some quality time with friends and family and all the excesses that this time of year brings!
We're wrapping up 2012 with our final shows this weekend – Friday night at the fabulous Coburg Night Market (presented by the Queen Vic Night Market folk) which is a great way to spend a balmy evening with wonderful food, wine and music on offer under the palm trees at Bridges Reserve on Bell St, near the corner of Sydney Rd. Then on Saturday, you'll find us at The Union Hotel in Brunswick from 5pm 'knee-deep in the Bluegrass groove' (if there is such a thing!).
It's been a really great, busy year touring and playing, and it's sure had its highs – one of which was our inclusion at the International Bluegrass Music Association 'World of Bluegrass' in Nashville, Tennessee  – and our nominations for Best Group and Best Song at the Victorian and National Country Music Awards.
As a nice way to cap off the year, we've recently learned that O Winding River will be included on the ABC's Saturday Night Country Favourites of 2012 compilation, due for release in January 2013. Thanks Felicity Urquhart for your impeccable taste in music!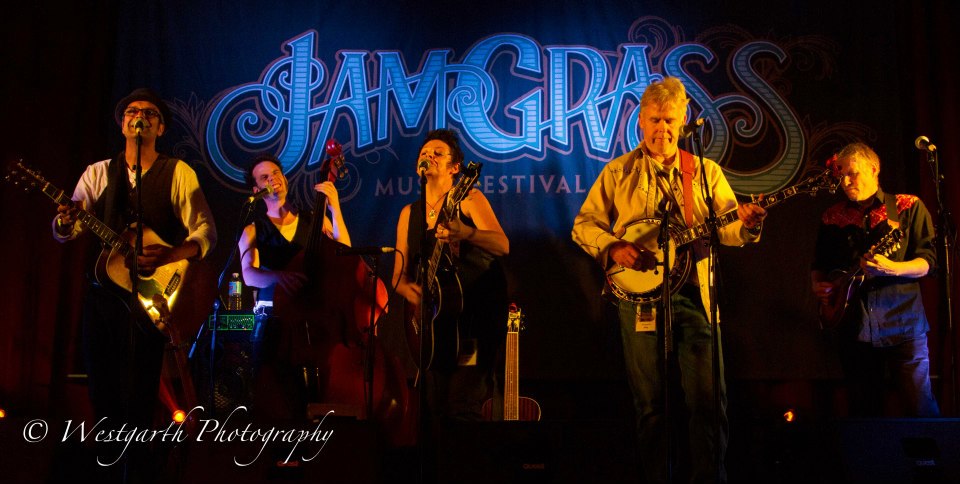 We'd like to give a special hats-off to these amazing musicians: Ian Tritt, Marni Sheehan and Nick O'Mara, who have become part of the extended Stetson Family this year. We couldn't have done it without you!
Already 2013 is gearing up to be another big year with a bunch of new songs ready to be recorded, travel plans and festivals booked.
So, however you're spending Christmas and New Year we hope you have a really happy, safe and healthy holiday season.
---
31,047.6 kilometres for a five-minute gig – that's gotta be some kind of record!  That's how far Nad and John travelled last week from Melbourne Australia to Nashville Tennessee and back again to play one song, O' Winding River, which had been chosen as one of 10 songs to be showcased at the International Bluegrass Music "World of Bluegrass 2012" Conference and Festival.
And what a week it was – we were loving ourselves as we were driving our Chevy out of the airport until we turned left directly onto the airport exit ramp – we weren't going to let that Wrong Way Go back sign tell us what to do!
Okay, so now we're back on the right side of the road, we've had a bit of sleep, we've eaten some ribs, got some Oreos and we've been to see the Tennessee Titans show those Detroit Lions how it's done.  All good – now it's down to business.
Our five-minute gig (no pressure there!) went off without a hitch. All nerves aside, it was a lot of fun and we met some great people and saw some of the most incredibly talented pickers who've grown up with bluegrass coursing through their veins.
The next few days we just took in all the music and sights and sounds of Nashville and saw the very cool Alabama Shakes play on the steps of the courthouse. They'll be here in January – be sure to check them out.
All in all we felt pretty chuffed to be invited over there and to be amongst some of the greats……it's not every day you get to sit around a table with John McEuen (Nitty Gritty Dirt Band) and hear first hand how in 1972 they managed to get together two generations of musicians, amongst them Earl Scrugg, Doc Watson, Maybelle Carter, Roy Acuff and Merle Travis and record in one weekend the album, Will the Circle Be Unbroken, that's gone on to be one of the finest documents of folk music and musicians ever to be gathered under the same roof.
Back home now but I can still hear the night-time circus of crickets and that American sound of freight trains sounding their whistles off in the distance …good times.
Now, we get to pack our bags again and head off and play some gigs in NSW, SA, Melbourne and Regional Victoria.  Check out the gigs below and hope to see you somewhere along the way. There are still tickets left for JamGrass but be quick as they're selling fast!
We'll be in having a chat with Lindy Burns on her evening show on ABC 774 Melbourne on Tuesday 16 October and performing O' Winding River live in the studio.
---
On Tuesday September 25, Nad and John will hit the stage in Nashville, Tennessee, to perform their song O Winding River, which has been chosen as one of 11 songs to be showcased at this year's International Bluegrass Music Association's 'World of Bluegrass Conference 2012′.
The Nashville trip coincides with the release of O Winding River as the second single from The Devil in His Sunday Best and when they return, the full band will head off on a tri-state tour, playing gigs and festivals in New South Wales, Victoria and South Australia throughout October/November.
Be sure to tune into 774 ABC Melbourne on Tuesday October 16 @ 9.30pm to hear O Winding River performed live in the studio on Evenings with Lindy Burns, plus stories direct from Music City USA.
---
We're back from our mini break and have some pretty exciting news we'd love to share. Happy to report that O Winding River (from The Devil In His Sunday Best) has been selected to be showcased at this year's International Bluegrass Music Association conference in Nashville, Tennessee. Nad and John will be heading over in September to present the song. A long way to go for a 5 minute gig, but we're very chuffed indeed and can't wait to check out the sights and sounds of Nashville!
First gig back is this Saturday (July 28) at The Union Hotel, Brunswick from 9pm. We're also heading out of town the following weekend to Tanswell's Commercial Hotel in Beechworth and St Leonard's Winery in Wahgunyah. Check out the gig page for all details of upcoming shows.
Hope to see you soon…we've missed you!
---
The Stetsons are now on their annual mini break – heading off to different parts of theworld. Look out Telluride, NYC, Croatia and Northern NSW!
They'll be back in August with some new songs and rarin' to play. Check gig details here, with lots more to be announced. See you on the flip side!
---
Is it May already? Time sure does fly when you're havin' as much fun as us!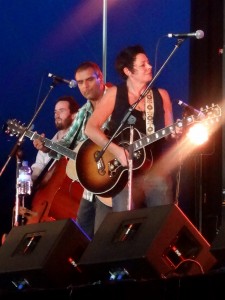 It's been a great festival season, having played to really fabulous audiences around Victoria. Most recently we headed down the Great Ocean Road to the Apollo Bay Music Festival where we had two great fun gigs – one in the big top and one in a church with a view across the bay…special moments indeed. At Easter we hit Beechworth with lots of our favourite Melbourne musicians travelling in convoy to the Golden Horseshoes Festival – it was like our very own version of 'Festival Express'! A weekend of incredible music and lots of laughs, not to mention the odd sore head or two.
Congratulations and thanks to the organisers of the inaugural Avoca Festival (a gem of a gig – check it out next year) and to Les Thomas for putting together a great show, 'These Machines Cut Razor Wire' which raised over $3000 for the Asylum Seekers Resource Centre.
This brings us to our last couple of gigs until August, as we all take a well-earned mini break. Some of us head to Colorado to check out the Telluride Bluegrass Festival, some go to Croatia and New York City, and some of us pop up north for the annual Humpback whale migration…how's that for a bit of variety!
We'd love to see you this weekend at The Union Hotel in Brunswick (Sat 9pm) or at The Drunken Poet in West Melbourne (Sun 6pm).
Til we see you again in August, keep the home fires burnin'.
– Nad, Colin, John, Andy, Luke
---
If you happen to be getting out of Melbourne over the next few months, you might run into us at any of the fine music festivals that seem to be in abundance in Victoria over Autumn. Such a gorgeous time to get out of town and into the surrounding countryside.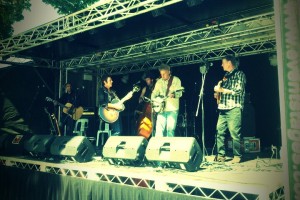 If you find yourself wondering what to do over Easter, there'd be no better place to be than in beautiful Beechworth for the Golden Horseshoes festival. Some of Melbourne's finest will be playing there such as Liz Stringer & Van Walker, Tracy McNeil Band and Raised By Eagles as well as us. Rumour has it that we'll all be sharing the stage together at some point – that's gonna be big!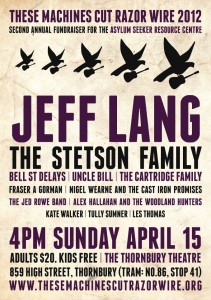 Other festivals you'll catch us at are Avoca Music Festival and Apollo Bay Music Festival. Check out the gig guide to find out where we're playing around Melbourne too.
Something else we'd love you to throw your support behind is 'These Machines Cut Razor Wire' – a fundraiser for the Asylum Seekers Resource Centre – coming up at The Thornbury Theatre on Sunday April 15. It's a great lineup and we're happy to be a part of it and stop these issues being pushed onto the backburner.
---
We're back!
Holidays are over and 2012 is already gearing up to be quite a year.  After a ripper of a year in 2011 with the release of our album, The Devil In His Sunday Best to great reviews, we're extremely chuffed to find out that we are finalists in not one, but TWO categories of the Victorian & National Country Music Awards for 'Best Group' and 'Best Song' for our single Fool's Gold. Fingers crossed that we'll bring home something that can go straight into the pool room!
Now that we're all back in the same place at the same time, gigs are starting up as of next weekend where we hit Oakleigh's Caravan Music Club with our good mates Sal Kimber & The Rollin' Wheel. You'll also see us around numerous festivals in the next couple of months. Hope you've all had a great start to 2012. We can't wait to get back into playin' and hope to see you at a gig soon.
---
The Devil In His Sunday Best is now available at JB Hi-Fi stores around Australia and online at iTunes. Thanks Vitamin Records! You can also pick up a copy at your local independent record store such as Readings, Basement Discs and Pure Pop Records. What a perfect Christmas present!
---
From Rhythms Magazine, Nov 2011 by Marty Jones
Well it's taken almost two years, but The Stetson Family have finally delivered the long-promised follow-up to 2008's mini-album Hey Sister Mary, Where'd You Get That Gun. And as strong as that first release was, the band has progressed significantly since then, making The Devil In His Sunday Best a landmark Australian roots album for 2011… (read the full review here)
---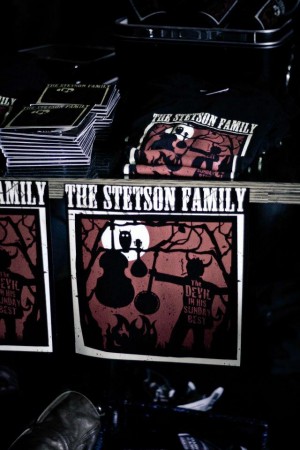 The Stetson Family want to say a huge thanks to all the folk who came along to the launch of The Devil In His Sunday Best on Sunday at The Penny Black here in good ol' Melbourne town.  What a joyous and fun afternoon it was! We'd like to thank the wonderful guests we had on the day – Tracy McNeil & Luke Sinclair with Sean McMahon, Marni Sheehan & Sharin Anderson, Bree Hartley & Liz Stringer.  Cheers also to Lisa Sorgini for the photos, Toby on film and Tim on sound.  Hats off to you all for making it everything we'd hoped for…and more!
Check out more photos from the day – as well as upcoming gigs.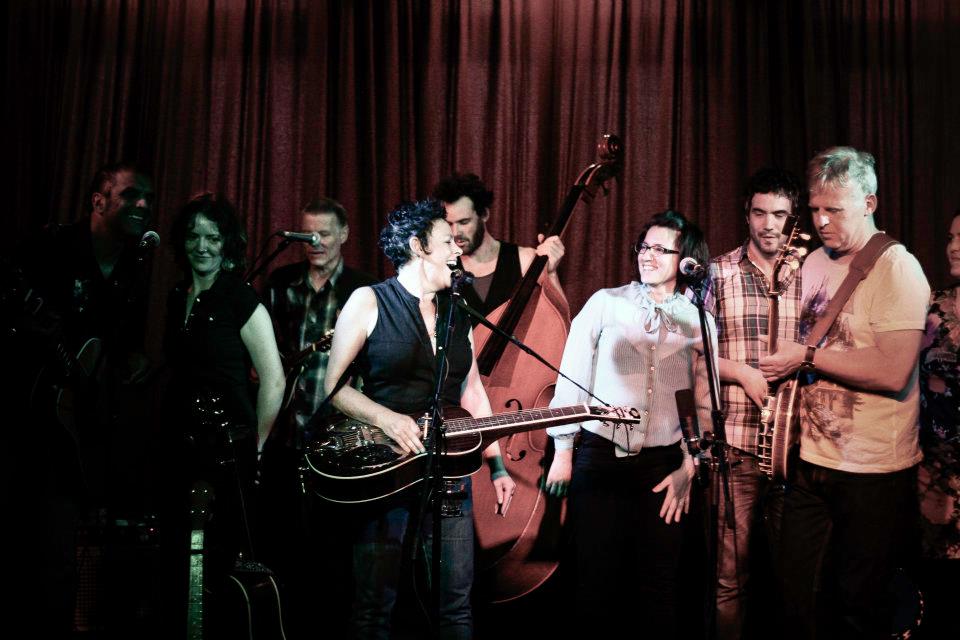 Hope to see y'all again soon! x Nad, Colin, John, Andy & Luke
---
Thanks to Alex Morton from The Last Record Store (Melbourne misses you LRS!) for his review of our album for Upstream Whispers. Read it in full on our Reviews page.
---
The Stetson Family are excited and proud to release their brand spankin' new album, The Devil In His Sunday Best. The new album brings a rootsy and original edge to the familiar and timeless sounds of bluegrass and alt.country with songs that are at times dark and dusty, lovelorn and heartbreaking, or just downright tongue in cheek.  Guests on the album include some of Melbourne's finest singer / songwriters, Tracy McNeil, Liz Stringer and Marni Sheehan. The Stetsons love doing what they do and audiences are eagerly encouraged to get on board and come along for the ride!
"The Stetson Family is the only band I can listen to without getting upset."                   (Jean Macumber, 88 years old, Viewbank)