for TRUE NORTH

Rick Moore, American Songwriter and Music News Los Angeles, Jul 2015
"With their tight harmonies and vibrant sound, it's hard to believe that The Stetson Family has only been together since 2008.  They blend like one of the legendary Bluegrass or Country families, and on TRUE NORTH, they sound better than ever with some of their best material yet."

 …………………………..
Niall Toner, Prescription Bluegrass, Aug 2015
"The Stetson Family are a band based in Australia, and it should be said that in spite of their name, they are not a 'family band' in the sense that we usually understand, but through their music, they are indeed a family in the sense of unity of purpose.
It's probably also only fair to say that they are not hardcore Bluegrass either, at least in the way we understand the term today, but this is quality stuff none-the-less. I think 'folk' might be a more honest description, though they do tackle a 'grass classic in the Stanleys', "How Mountain Girls Can Love", and a Dylan outlaw song, "Billy". But it's with their originals that this band shines. "Every Second Beat of My Heart", "Run Daddy Run", "Let It Ride" and "Lover Where You Going", all composed by members of the band, are all songs that have the potential to become classics, and I would not be surprised to see at least some of these being included in the sets of other performers.
Vocally, The Stetson Family rely on two and three part harmonies, with many of the leads taken by Nadine Budge with her distinct voice, who also plays a tasty dobro on many of the tracks. For my own personal taste, the Banjo, played by Colin Swan, in both Scruggs-style and clawhammer, is a little bit low in the overall mix, but that's a minor gripe, and perhaps in future recordings, Colin will step a little closer to the mike? John Bartholomeusz handles the lead vocals, and plays solid flatpick guitar, Andrew Carswell is tasty and sparse on the mandolin, and Luke Richardson provides solid bass throughout.
Overall, this is another fine example of original songs from a band who don't come from the traditional homeland of Bluegrass, but who do a darn good job of representing the kind of high quality material from outside the U.S., which makes a very respectable contribution to the genre."

 …………………………..
Thomas Blain, Americana Australia, Jul 2015
"It's been a little while between records for The Stetson Family (the last being 'The Devil In His Sunday Best'- 2011), but they have clearly used that time to refine the songs for their latest offering. At times, True North is hold-on-to-your-hats bluegrass, and the banjo, mandolin and dobro performances are sure to satisfy the purists. Other times, you'll find down-tempo ballads reminiscent of The Arlenes, and the blend of male and female vocals is distinctly theirs. The Stetson Family are seasoned members of the Melbourne Americana scene, however Gleny Rae (Gleny Rae Virus and her Playboys- fiddle), Liz Stringer (backing vox), Bree Hartley (Tracy McNeil & The GoodLife- percussion) and Nick O'Mara (Raised By Eagles- resonator & steel guitar) were enlisted to sprinkle some fairy dust on a particularly uplifting and mature record."
Favourite track: Man and a pretty gal
…………………………..
Bill Lawson, Radio Adelaide, 2015

"In 29 years of presenting the program I can't remember the last time I was so excited about an Australian bluegrass recording. The group's previous albums were excellent but they've gone to a whole new level with this one. There's so many highlights I probably shouldn't single one out, but Nadine Budge's singing on a number she co-wrote (Every Second Beat Of My Heart) is worth the price of the disc alone."
…………………………..
Rob Dickens, No Depression, October 2015
"The music here is a lovely blend of styles, all treated respectfully and with great care – straight-out spirited bluegrass, down-tempo ballads, traditional folk, Americana and alt.country.  The band's unique-sounding and tight harmony vocals are a feature throughout.  The themes are earthy – drinking, friendship, conflict, love and family.  Highlights for me are "Every Second Beat Of My Heart" and "Let It Ride" (Nadine Budge's vocals are simply beautiful here), "Top Of The Mountain" and "Billy".  A mention also to the constant subtle and tender guitar work from John Bartholomeusz'…..It's a delightful and loving release."
…………………………..
Marten van der Laan, Country Stew/Radio Compagnie, The Netherlands, August 2015
"TRUE NORTH is a fine blend of bluegrass/country music; a magical tour you wish not to end. True North propels The Stetson Family to the top of the charts."
…………………………..
Dusan Gemersky, Bluegrass CZ (Czechoslovakia) [Google translation]
"Personally, I think this project, True North, brilliantly exceeds their previous achievements. Songs are imaginative, nicely played, and then we have great songs. A significant element in this puzzle is especially vocally amazingly disposed to Nadine, who is featured in several songs. The audience at the first listening of this album will delight in the songs, from which every one has a chance to become a hit."
…………………………..
Bluegrass Unlimited, Nashville, USA
The Stetson Family isn't a bluegrass band, at least not in the usual sense. There are bluegrass elements throughout …. they blend folk, rock and country elements seamlessly and are drawn to emotional anthem songs and loping, relaxed mid-tempo numbers…this is a good recording.
…………………………..
Highbeam, USA
The Stetson Family is based in Australia, but the rugged, down-to-earth charm of their music is universal. A "must-have" especially for fans of country and its creative offshoots! …
…………………………..
Claudio Giuliani, Mescalina Associazione Culturale – Italy [Google translation]
"The Stetson Family is a group to be discovered and positively considered without delay. You will do well to write down their name……The Stetson Family from Melbourne, Australia is a band sounding distinctly American, with a rootsy sound from bluegrass, loose and brilliant and full of dynamic. They're champions of fresh sounds; bluegrass but with bedraggled soul of rock and spinal cord roots, with an attractive use of the mixtures and vocal dynamism and vitality to strengthen all in an attractive and expansive sonic jaunt."
…………………………..
Caylee North, Crank-it Country, Nashville, USA
"The Stetson Family's True North is a total diversion from the current likes of country music, leaving the overused pop themes of current country far behind. This album goes beyond bikini-clad girls and trucks to lament the struggles and joys of everyday life. The boot stomping, string plucking, soul-filled lyrics of True North are reminiscent of Appalachia fiddle and harmony….for fans of old-school picking and raw vocals."
…………………………..
Red Eye Records, Sydney
Spirited 2015 album of freewheelin' folk & gritty bluegrass with superb harmonies from Melbourne combo, with guests Liz Stringer, Suzannah Espie & others!
…………………………..
for O WINDING RIVER (U.S RELEASE)
Joe Fish, BBC Lancashire UK, Oct 2013
"Every now and then, if you are patient, you discover a real treasure trove of wonderful music. That's exactly what happened to me when I first played The Stetson Family's "O Winding River" CD. Superb harmonies, outstanding musicians and top quality production makes this album a "must" for all lovers of Bluegrass & country music. Thank you to The Stetson Family for giving me something exceptional to play on my programmes on BBC Radio in England."

 …………………………..
Rita Small, Prescription Bluegrass, Arizona, USA
"The Stetson Family's sound is what happens when veteran musicians and vocalists are confident of their strengths and are dedicated to the music as a whole instead of the individual contribution"

 …………………………..
Bluegrass Unlimited Magazine, Virginia, Jan 2014
"There's a lot to be commended for a band that has carved out its own body of songs, all with plenty of traditional influences. Whether you consider this acoustic Americana or Australiana, these are five original voices worth a listen for bluegrass fans"
 …………………………..
Roland Lanzarone, Le Cri du Coyote Magazine, France, Dec 2013
"Fool's Gold (la femme vexée d'avoir été trompée par ce démon déguisé), Brother Harlan (le brave garçon qui s'est laissé piquer sa belle par un cousin) et la superbe Hey Sister Mary (la vengeance de Mary partie, fusil sous le bras, abattre la famille qui a tué son amoureux). Plus dynamique est l'excellente Hell Hath No Fury (si pour ton malheur tu croises un jour furie, oublie même d'avoir été mis au monde)"
…………………………..
Jerome Clark, Rambles.net, Nov 2013
"The Stetson Family is made up of five members with Nadine Budge as (mostly) the lead vocalist, possessed of a splendid and uniquely appealing alto. To the American listener with even a passing knowledge of the bluegrass genre, the Stetsons will bear only a marginal resemblance to Bill Monroe or Jimmy Martin or Del McCoury – in fact, that difference is what makes the group a whole lot more interesting than it would be if they were trying to impersonate an outfit from Kentucky or North Carolina. What's happening here is a nearly sui generis* fusion that, if sometimes a bit disorienting, is always striking and at times, as in the title song and elsewhere, downright gripping." *Sui generis = "of its own kind/genus" and hence "unique in its characteristics".
…………………………..
Rowena Muldavin, Heartland Public Radio, Oct 2013
"Heartland Public Radio is proud to tip its hat to The Stetson Family on All Things Country. The group's tight harmonies and terrific musicianship will be included on the show's annual tribute to Australia Day in January 2014. Another fine group from Australia's vast legacy of Country and Bluegrass tradition!"
…………………………..
for THE DEVIL IN HIS SUNDAY BEST
Posted on December 21, 2011 on unpaved by Les Thomas
"Their recent tour has them sounding tighter and sweeter than ever. The vocal harmonies on Oh Winding River were nothing short of glorious." Live to Air on Grande Ole Twang 5, 102.7 Triple R FM
…………………………..
Carrie D, The Cowboy's Sweetheart, 99.9 Bay FM
"Quite a package, this band, consistently writing great songs – and great playing too….one of the best in Australia for this sort of roots music."
…………………………..
JB Hi-Fi's STACK magazine by Denise Hylands, Nov 2011
This Melbourne outfit have a diverse history, once exploring the climes of electropop music, but this is something far different. Sounding like a true family country band who've been playing since they was young 'uns, playing like a tight musical unit.
A collection of mostly original tunes, keeping true to the traditions of this music. This gal and these guys play a great mix of traditional acoustic country and bluegrass. Nadine Budge's gorgeous and poignant vocals are a definite highlight with strong family-like harmonies, and fine pickin' twang of the guitar and banjo variety.
…………………………..
Melbourne Weekly, Nov 2011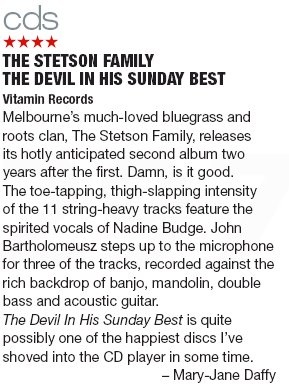 …………………………..
Marty Jones, Rhythms Magazine 2011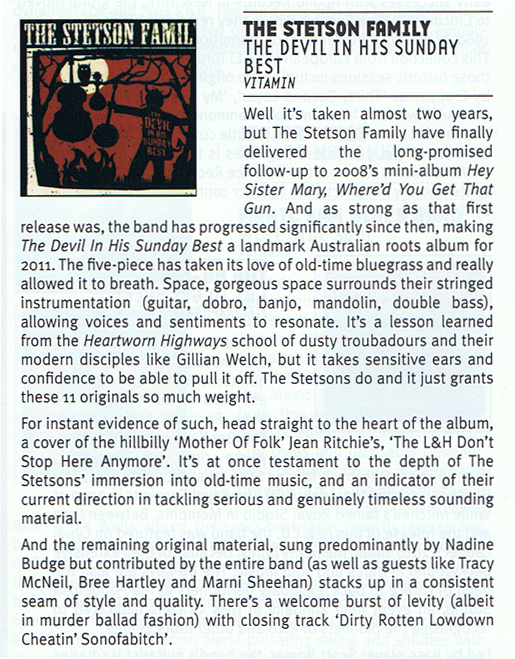 …………………………..
Posted on October 20, 2011 by upstreamwhispers by Alex Morton
Damn but I love good handclaps. And banjos. And Nad Budge's voice. So when I stuck the brand new Stetson Family album in the player and all of the above came flying out of the speakers, one after the other, I got a bit excited. And around 38 minutes and 11 great songs later I was grinning like a fool.
The Stetsons play progressive bluegrass with a healthy dose of country and folk-influenced music, and like Pennsylvanians Jim and Jennie & The Pinetops, they maintain a respect for the traditions of the genre without being constrained by them.
Anchored by Nadine Budge's vocals, dobro, and considerable songwriting talents, the Stetson Family also features John Bartholomeusz , who contributes several great songs and on-the-button acoustic guitar leads; Colin Swan and Andrew Carswell play banjo and mandolin respectively, and Luke Richardson holds it all down with the bull-fiddle.
One of the real strengths of this album is the strength of the songs – all originals with the exception of Jean Ritchie's classic tale of economics catching up with traditional mining – "The L&N Don't Stop Here Anymore" (nicely juxtaposed by John and Colin's narrative "Smokey Valley") and Nad's old partner-in- crime Marni Sheehan's gorgeous and heartfelt "Devil Call Your Name". Highlights include "Oh Winding River", an elegiac classic with guest vocals by co-writer Tracey McNeil, a reminder of what a great singer (and writer) she truly is. And harmonies? Listen to the outro, with the whole band and  guests singing loud and proud, all air and breath, perfect unison –it's a great moment. And Nadine proves herself the equal of anyone when it comes to heartbreaking honesty with "Traces Of You" – "there's traces of you in every corner I turn/And you're there in the ashes of every bridge that I've burned." It sounds like the best song that Mary Gauthier never wrote. And like a true mandolin player, Andrew Carswell nails "Every Dusty Road." "Old Black Canoe" keeps coming back to haunt me – is it the six white horses, or the long black Cadillac, the harbingers of our time on this earth? Whatever, it's a great and very affecting song! And of course Nadine takes it out in irreverent style with "Dirty Rotten Lowdown Cheatin' Sonofabitch"
So there's no flashy trends or fancy hats here (some very nice shirts though!) – just a great set of songs played with great feel and great honesty by a bunch of people who are obviously joined by the sheer joy and love of making good music together.
…………………………..
Devilish Goodness
Posted on October 6, 2011 by unpaved by Les Thomas
If The Stetson Family's new album is an indication of how well Melbourne bluegrass is doing we have a good deal to celebrate. Nadine Budge leads with aplomb on vocals, guitar, dobro and harmonica. Her beautifully expressive voice – comparable to Wendy Matthews on some of the quieter numbers – makes it clear she's done some serious living and had a lot of laughs along the way. For every note of sadness, there's a wry smile and a chuckle to be had, often about low-down, lyin', cheatin' types who might find their eternal resting place in a shallow bush grave. Yep, we've all met 'em!
Traces of You is a gorgeous love song of the kind that Mary Gauthier would be proud to write. The one cover on the album, Jean Richie's remarkable song about the economic collapse of a coil mining town The L&N Don't Stop Here Anymore, is as fine a version you'll hear on record, and some huge names have done it over the years.
John Bartholomeusz takes the vocal lead on three of the 11 songs, with the prodigal son themed Smokey Valley being a standout.
Instrumentation is strictly Bluegrass. Down home hand claps are in and hi-hats are out, though purists with too narrow a view might blanch a little at the PG level cussing. Variations of tempo and mood keep things interesting at all times. Luke Richardson's double bass provides a solid bottom end for the delicate and lively banjo (Colin Swan and Nadine Budge), mandolin (Andrew Carswell) and guitar (John Bartholomeusz and Nadine Budge). Andrew Carswell's mandolin runs provide dozens of refreshing highlights throughout the album. Special guests include Liz Stringer and Tracy McNeil and Marni Sheehan.
Devil in his Sunday Best won't redefine Bluegrass as we know it, but it does put a unique Australian perspective on the style that's bound to lift your mood and make you feel good about the sounds emanating from this city.
---
for HEY SISTER MARY, WHERE'D YOU GET THAT GUN?
Martin Jones, Rhythms Magazine 2009
Another fantastic local country release with integrity and chops from a Melbourne old-time/bluegrass quintet The Stetson Family. These guys have clearly listened closely to the likes of the Carter Family and the Stanley Brothers and have come up with a banjo/harmony-driven sound that is clean and fulfilling. It really is gratifying to hear younger bands digging up the roots and soul of country music like this and adding their own personalities. With a name like Nadine Budge, the Stetson's lead singer was born to sing country music (hard to believe such a name could come out of suburban Australia!). The remainder of the line-up is a very traditional one – acoustic guitar, mandolin, banjo (actually played like a banjo, not like a guitarist fumbling on a banjo) and double bass. Recording guests include local luminaries Liz Stringer and Jordie Lane. The absence of drums is significant and helps give the music an authentic old-timey feel.
Of the seven tracks presented here, four are strong originals, including the title track and Budge's heartbreaking 'Dark Side Of Town'. There are also covers of Lucinda Williams 'Jackson', Earl Scruggs' 'Nashville Blues' and their own arrangement of a traditional tune 'Old Paint'.
The Family are currently in the process of recording a debut full-length and if its half as classy as this I can't wait to hear it!
…………………………..
I had been having a bad day. stressed out! … I decided to put on a CD which had arrived in the mail – The Stetson Family's Hey Sister Mary Where'd You Get that Gun? What a pleasant surprise – a CD to lift the spirits to be sure.
The instrumentation on this CD is great with a very clean, clear sound – very easy to listen to. All the traditional bluegrass instruments make an appearance with clear and concise flat-pickin' guitar from John Bartholomeusz and guest guitarist Jordie Lane, the easy-rolling 5-string banjo of Colin Swan, and great mandolin work by Alan Carswell. The dobro is very tastefully played by guest instrumentalist Jordie Lane on The Dark side of Town as well as by Nadine Budge, the Stetson's lead singer, and the double bass of Luke Richardson keeps the tight rhythm going.
The voices of John, Andrew and Colin blend in tight harmonies with Nadine making this a wonderful listening experience added to by the vocals of guests Liz Stringer and Sharin Anderson. The sound quality of the entire CD is exceptionally good.
The songs (7 tracks of murder, mayhem and twisted tales of the human heart) are mainly originals with the nice blend of Lucinda Williams' Jackson, the trad Old Paint, and Earl Scruggs' Nashville Blues.
The title track Hey Sister Mary, in typical Bluegrass tradition, is a sad tale made to sound a whole heap lighter by the bright, energetic instrumentation and upbeat tempo.
I was sorry to get to the end of the CD – so I put it on again… and again. It is very easy to listen to… certainly brightened my day!
---
LIVE/LISTINGS/ARTICLES
Live Review: The Stetson Family at Retreat Hotel, Brunswick
Every time I'm in the front bar at the Retreat, the wood paneled walls, rowdy crowd and 70s light fittings make me feel like I'm in a bar in Fargo, North Dakota. So much so that I'm always disappointed when I get outside and discover that it's not snowing.
Showing up to chase away our rainy autumn blues tonight are local knockabouts The Stetson Family.  As frontwoman Nad Budge is always quick to point out, The Stetson Family aren't actually related, although the light-hearted ribbing going on onstage – mainly directed at mandolin player Andy Carswell – suggests otherwise.
I like to think of these folks as modern bluegrass. Their harmonies are tight, and the banjo (ably wielded by Colin Swan), mandolin and acoustic guitar trade effortless solos. Luke Richardson's energetic upright bass and sky-high harmonies are a treat, and Budge's sweet dobro playing lends a mournful tone to the down-tempo numbers.
In between rousing renditions of favourites like "Hey Sister Mary, Where'd You Get That Gun?" and new tune "Fool's Gold", Budge and co-frontperson (is that a word?)  John Bartholomeusz reported that the group's first full-length album is nearing completion.
Budge spotted several fellow musos in the room, and cheekily invited everyone who has an album coming out this year to raise their hands. More than a few arms shot up, confirming that it is indeed an exciting year ahead in Melbourne town.
We loved it, the punters loved it, and we can't wait for The Stetsons' new album!
…………………………..